Opulands provides complete landscaping design & build services for most Bay Area cities including those in and around
and
Licensed & Insured • CA License #1067772
Schedule your project consultation, design & estimate today!
Make an impression in the Bay Area, boost your curb appeal, and increase your property value with a paver driveway
Just make sure it's done right.
Opulands is a 5-star San Jose licensed contractor that specializes in paver driveways.

Doing it right is what we do.
The overall outcome of your driveway will depend on the expertise and care that your designer and driveway contractor brings to the table.
With so many paver colors and shapes to choose from, it's easy to get overwhelmed trying to decide which is best for the architecture of your home and its landscape. Decisions need to be made on the edging, the walkway to your front door, and more.
Unlike those who just lay pavers, Opulands designs and builds entire landscapes – from design to construction – throughout the Bay Area.  It's our goal to construct a picture-perfect entry to your home that includes a paver driveway as durable as it is beautiful, but that also coordinates with your entire front yard landscape.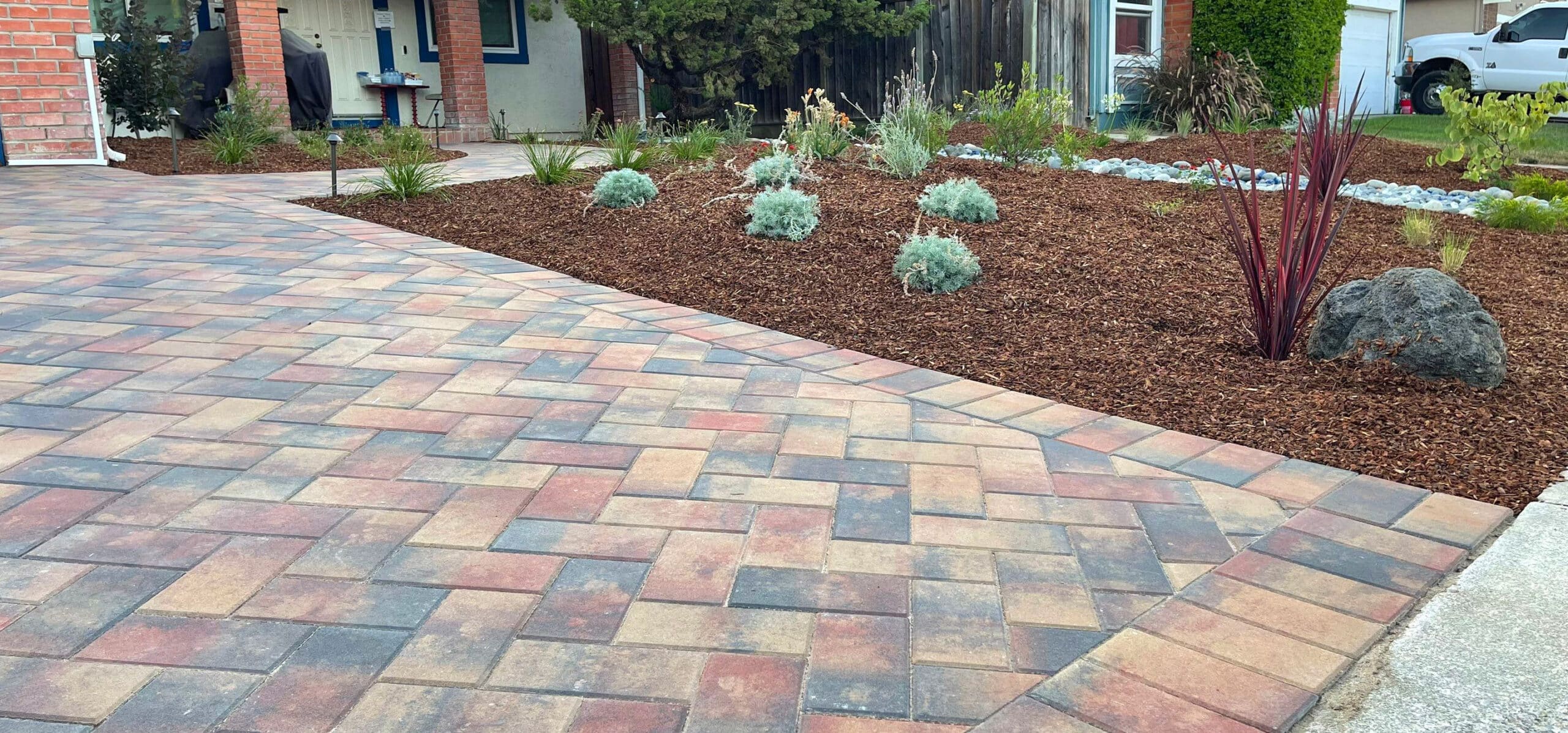 Driveway Pavers San Jose
If you're looking for a reliable and experienced contractor to install driveway pavers in San Jose, then look no further. We have been providing top-quality paving services to the residents of San Jose for years. Our team of experienced professionals will help you select the perfect driveway paver material and design for your home or business. 
In addition, one of the most critical aspects of installing a new paver driveway is proper grading and installation of drainage.
Selecting a contractor in San Jose who has a thorough understanding of surface drainage, water tables, and local weather conditions in San Jose is vital to guarantee the durability of your new pavement and drainage systems. This is precisely the expertise that Opulands possesses, making us the ideal choice for your project.
When you work with Opulands, you really do get the best in design and construction for your paver driveway and for all your landscaping and hardscaping needs.
Materials
Opulands uses only the highest quality paver materials, from Unilock and Belgard to create a driveway that lasts. We understand how difficult it can be to choose the right style and color of pavers for your project. That's why our team of experienced professionals are here to help you decide on the best option for your property.
Prices
If you're looking for quality paver stones in San Jose, you can find a wide range of prices depending on the type of material, style, and size. For example, brick pavers come in a variety of colors, sizes, and styles, ranging per square foot. Travertine pavers are also popular and also range from per square foot. Give us a call to discuss pricing for pavers in San Jose.
To get started, request a complimentary project and design consultation below. Or read on to learn more about paver driveways.
The entire experience was great. It was the best value and best engagement I had in this line of business.
Opulands did a phenomenal job of designing & installing pavers in our front yard. Highly recommend them.
Let your lasting impression be that of elegance the moment you drive up to your home
It's said that first impressions matter.
No truer words could be spoken when it comes to your driveway. Picture a new beautiful paver driveway that gives a true sense of what's to come inside your house and on your property.
It welcomes you home, invites others in, and sets the mood before you even walk in the door.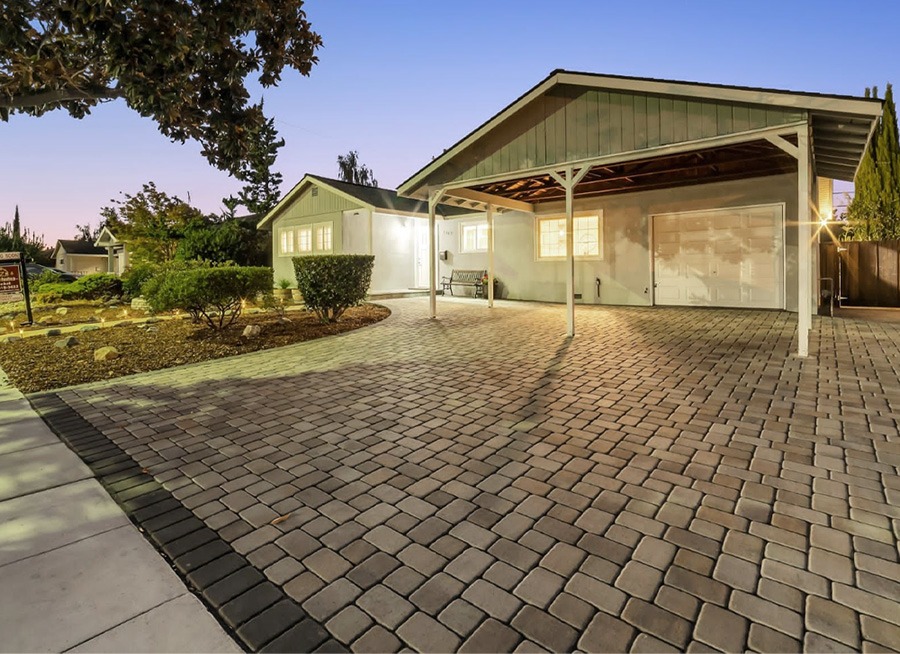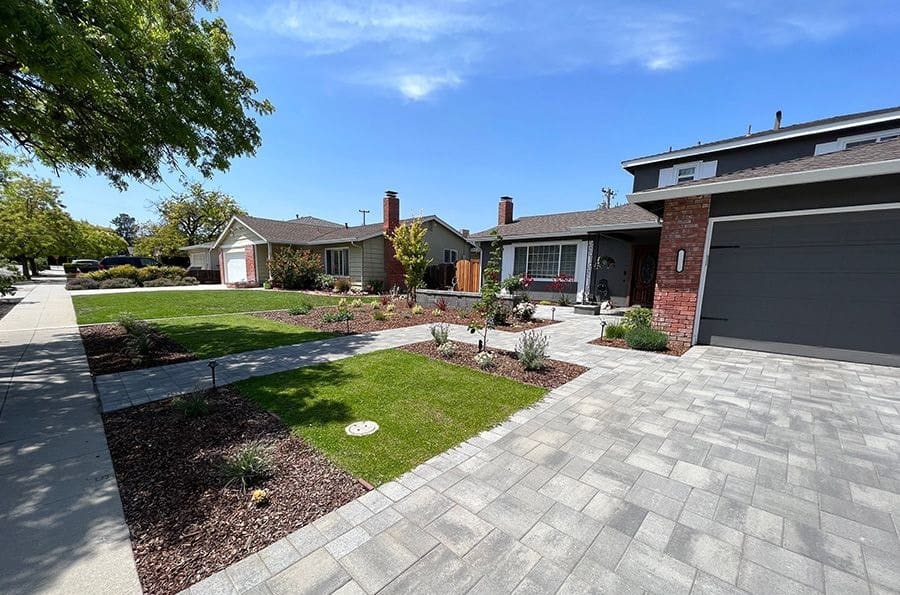 What impression do you want to make?
A driveway often takes up the largest visual real estate when you drive up to a home. Why wouldn't it then be beautiful and something you would be proud of?
With their many shapes, textures, and colors, paver driveways are indeed beautiful. This is the difference between a paver driveway and one made of concrete or asphalt.
It's a beautiful difference.
Boost your curb appeal and San Jose property value with driveway pavers
With so many different types of pavers and colors to choose from, it's easy to match and enhance your home's architecture and color. As your curb appeal goes up, so does your property value.
Functional Driveway Pavers in San Jose 
Never replace ugly, cracked concrete again!
Unlike concrete slab driveways, paver driveways are less prone to cracking because they can withstand 8,000 PSI, compared to concrete slabs at around 4,000 PSI.
Pavers are low maintenance
Instead of pouring a single surface of concrete, each paver is placed individually. Need access to a utility line, or cut a tree root that's grown underneath your pavers? Simply remove the paving stones and replace them once complete – no unsightly patches or expensive repairs are needed!
Pavers are cost effective
Pavers are a cost-effective way to upgrade and beautify any outdoor space. They offer a wide range of options, from driveways to patios, that can be customized to fit your exact needs. In San Jose, pavers are becoming increasingly popular due to the variety of styles and colors available. 
Permeable pavers are great for drainage
Permeable pavers are spaced further apart to allow water to seep through the paver cracks instead of building up on the surface and causing an eventual runoff which can cause erosion of the land and landscaping surrounding the driveway.
Opulands brings the best in paver driveway design and installation to the Bay Area
When you work with us on your front or backyard reconstruction, you can expect: