Premier Landscaping San Mateo
Licensed & Insured in the Bay Area | Lic. #1067772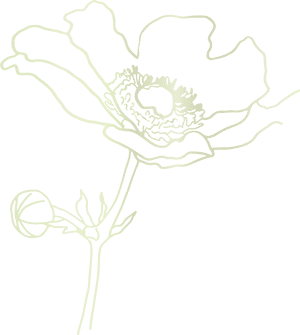 Opulands Landscape Design & Construction
Opulands is a 5-star design and construction contractor providing professional landscaping services in San Mateo and the surrounding areas throughout the Silicon Valley. We handle everything, from concept to completion.
Imagine an outdoor space in San Mateo, California…
Imagine a serene oasis in San Mateo where you can leave behind the hustle and bustle of everyday urban life and immerse yourself in nature. This is a place where you can soak up the sun's warmth, listen to the gentle rustling of trees, and enjoy the fragrant scent of blooming flowers. Alternatively, envision a delightful get-together with family and friends as you prepare a delicious meal in your outdoor kitchen or gather around a cozy fire pit under the star-filled skies to share stories and laughter.
Now imagine that in your own San Mateo home's outdoor space!
Opulands is your go-to partner for creating an exceptional outdoor living experience in San Mateo. We are committed to bringing you closer to nature, fostering meaningful relationships with family and friends, and designing stunning outdoor spaces that complement your home. Our team of skilled professionals guarantees to turn your vision into a reality, ensuring you get the outdoor paradise you've always desired.
It's time to claim your spot in the sun. If you're looking for a unique landscape design company in San Mateo, our team here at Opulands has you covered. Schedule a free project and design consultation with us today.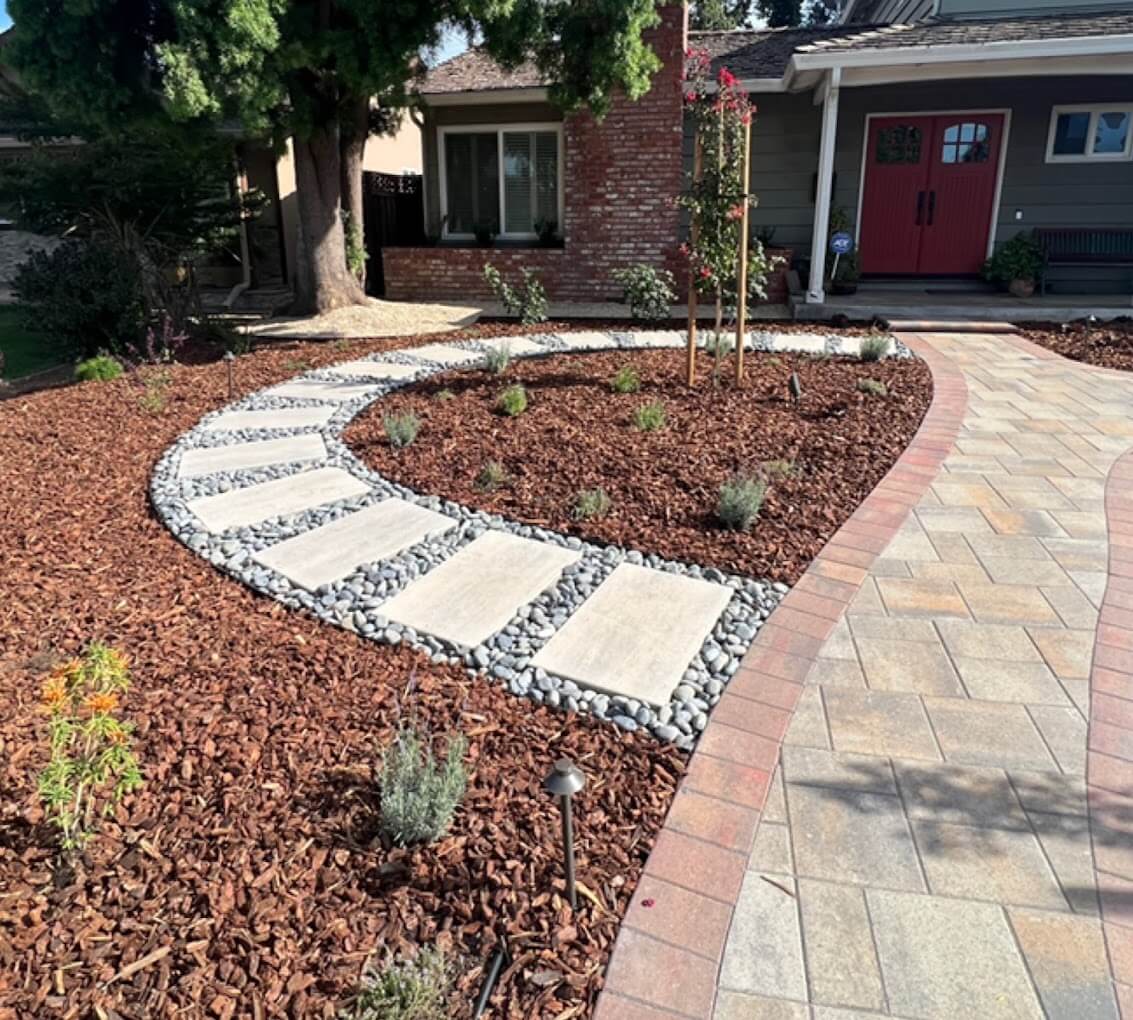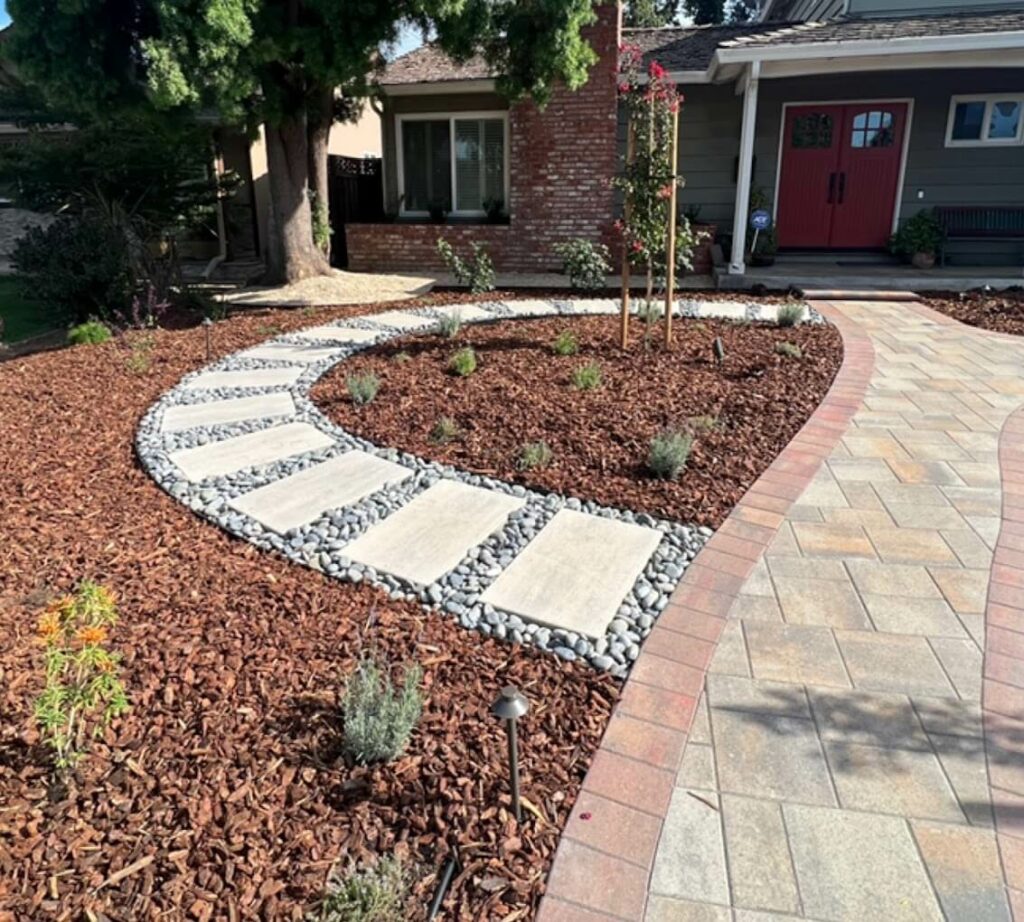 I literally would give Opulands TEN STARS if I could!
Expert Landscaping Design & Installation Services
At Opulands, we take pride in offering top-notch professional landscaping design and installation services. Our team of experts is dedicated to creating outdoor spaces that not only meet but exceed our clients' expectations. With years of experience in the industry, we have honed our skills in landscape design, hardscaping, and installation, making us the go-to landscaping company in the area. 
We provide a comprehensive range of landscaping solutions in San Mateo. Our services include, but are not limited to:
Custom Landscape Design: Our team collaborates with clients to create personalized designs that match their preferences, budget, and property. We factor in elements such as climate, soil, and existing flora to ensure the landscape design is eco-friendly and practical.
Hardscape Design: We design and construct a diverse range of hardscaping features, including patios, walkways, retaining walls, and outdoor cooking areas. Our team utilizes premium materials and techniques to ensure that the structures are both aesthetically appealing and durable.
Softscape Design: We also provide softscape services, such as planting, turf installation, and mulching. Our team analyzes factors such as sun exposure, soil quality, and watering needs to guarantee that the plants thrive and maintain their beauty.
Irrigation Services: We install, fix, and manage irrigation systems to guarantee that the plants receive the right amount of water while preserving resources.
Outdoor Lighting: Our landscape lighting solutions enrich the beauty and functionality of outdoor areas. Our team installs energy-efficient lighting systems that accentuate architectural features, plants, and other elements.
Our design process is personalized to ensure that each project is tailored to the unique needs and preferences of our clients. From the initial consultation to the final installation, we work closely with our clients every step of the way to ensure that their vision is brought to life. Our commitment to quality and attention to detail is what sets us apart from other landscaping companies. 
Whether you're looking for a complete landscape renovation or just need help with specific aspects of your outdoor space, we have the expertise and knowledge to get the job done right. Contact us today to learn more about our services and how we can help transform your outdoor space into a beautiful oasis.
Landscape Design San Mateo
A beautifully designed landscape not only enhances the curb appeal of your property but also increases its overall value. At Opulands, we understand the significance of landscaping San Mateo properties and offer a wide range of landscape design services to transform your property into a stunning outdoor haven.
Our team of professional landscapers has years of experience in creating bespoke landscapes that cater to our clients' unique preferences and needs. From designing stunning garden landscapes to constructing beautiful water features, we have the skills and expertise to deliver exceptional results. 
So if you're looking for top-notch landscaping San Mateo, look no further than Opulands. Let us transform your property today and create an outdoor space you'll love for years to come.
Landscape Installation San Mateo
Here at Opulands, we also offer comprehensive landscape installation services to our clients in the San Mateo area. Our experienced team of professionals works closely with our clients to create custom landscape designs that meet their specific needs and preferences.
From planning and design to installation and maintenance, we are committed to providing our clients with exceptional service and quality workmanship. Whether you're looking to create a beautiful outdoor living space, enhance your property's curb appeal, or simply add some greenery to your surroundings, our team at Opulands has the expertise and creativity to bring your vision to life.
Contact us today to learn more about our landscape design and installation services and to schedule a consultation with one of our design experts.
Our Approach to Landscape Design in San Mateo
Opulands takes a unique team approach to every landscaping project in San Mateo. Our team of designers, horticulturists, and demolition and construction experts have extensive knowledge of both softscape and hardscape. When you choose to work with us, we prioritize planning and design to ensure that we can execute efficiently and make any necessary tweaks to exceed your expectations. 
Our team provides expert advice on material selection, craftsmanship options, and architectural designs that align with your family's needs and the style of your home. We guide you through every step of the process, from design to material selection, demolition, and installation, delivering on time and on budget. 
Our best-in-class work not only offers value on its own merits but is also the best value in the marketplace. At Opulands, we pride ourselves on our team approach and the exceptional quality of our work.
One of Our San Mateo Backyard Landscaping Projects
Steven is not satisfied unless they achieved the highest quality standards. He takes great pride in his work and his crew is simply top-notch. After completing the job, they meticulously cleaned the space leaving every bit as tidy as before the project was started. Thank you Opulands for a job very well done!! We love our new backyard!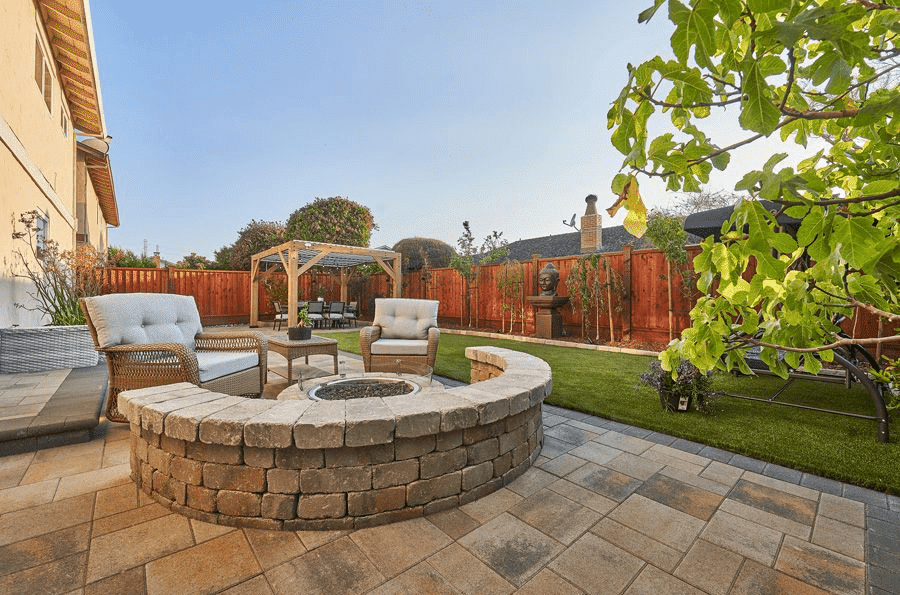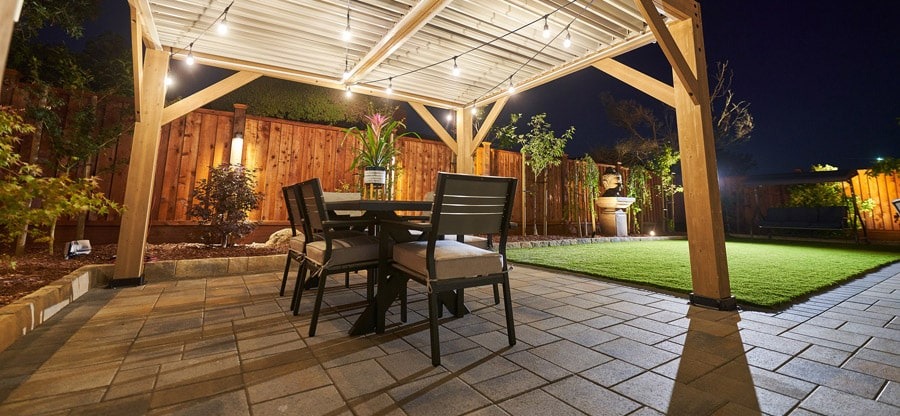 "Our family engaged Opulands Landscape Design for a complete backyard remodel  at our San Mateo home this spring and Steven, the owner, was our designer and project manager.
Overall, they were extremely professional and did phenomenal work with our backyard and transformed it in less than 4 weeks. This included demolition, hardscaping, installing turf, planting trees/plants, installation of pergola, water fountain, fire pit, plumbing, electrical and outdoor lighting installation.
We had interviewed 4 other landscape contractors before finding Opulands Landscaping. To our surprise and counter to our expectation, they came in right in line with the other 4 contractors while Steven was the only one who provided us with a detailed design which made us feel as if we were on the same page from the first time we discussed the project.
What we particularly liked was that he listened carefully and every conversation with Steven was two-way. His ideas were very creative and original and the design represented exactly what we discussed while the build-out far exceeded our expectation.
From the moment the project started it became clear that Steven is not satisfied unless they achieved the highest quality standards.  He is a very accountable person and will not cut corners to get the project completed. He takes great pride in his work and his crew is simply top-notch. His crew had a habit of keeping the area clean and hazard-free at all times.
After completing the job, they meticulously cleaned the space leaving every but as tidy as before the project was started.
Thank you Opulands for a job very well done!! We love our new backyard!"
It's time for you to experience opulence in your front and backyard landscaping
Our San Mateo landscaping and hardscaping professionals are committed to offering high-quality service and results. We collaborate closely with our clients to understand their needs and preferences, and we only utilize high-quality materials and processes to ensure that every landscaping project in San Mateo conducted by Opulands meets the highest standards.
Front yard landscaping options…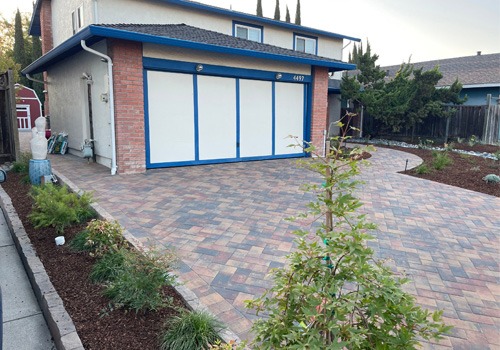 Step up to paver driveways. They're durable, low maintenance, stunning, and very popular in San Jose.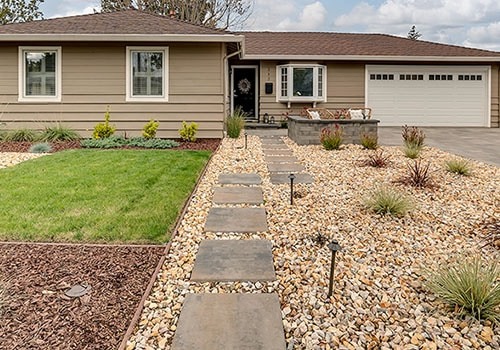 Walk away from cracks. Concrete walkways can't hold a candle to interlocking pavers for durability and design options.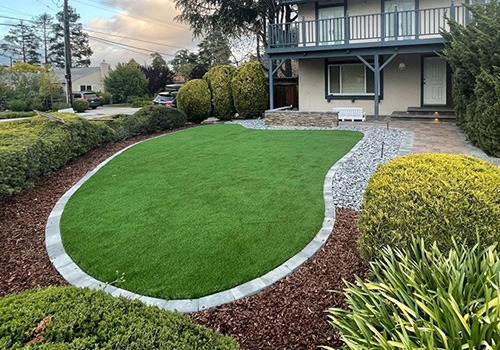 Synthetic or sod, we do both along with the perimeter hardscaping and landscaping. Synthetic is a popular water-saving option in San Jose.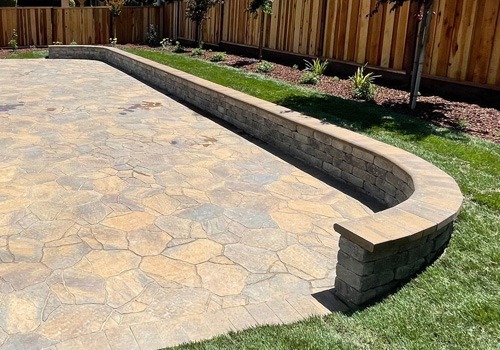 For those backyard parties that weather here in San Jose affords us, add a paver seating wall.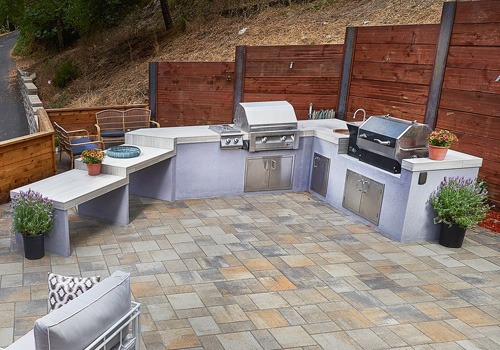 BBQ islands too. Take the kitchen with you to your backyard. So many options to choose from.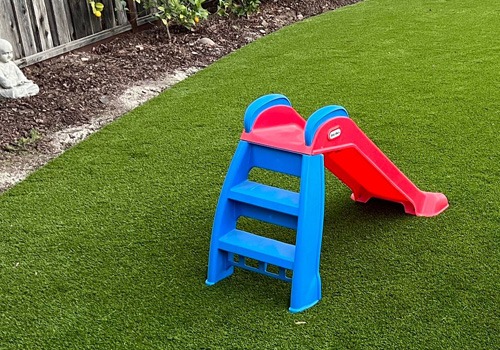 Synthetic or natural sod, we install both. With the water shortage here in San Jose, the latter is in demand.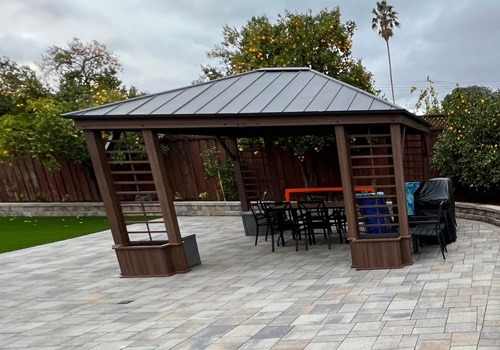 It gets hot in San Jose, but you don't need to stay inside. Step into the shade of a pergola or patio covers right out your back door.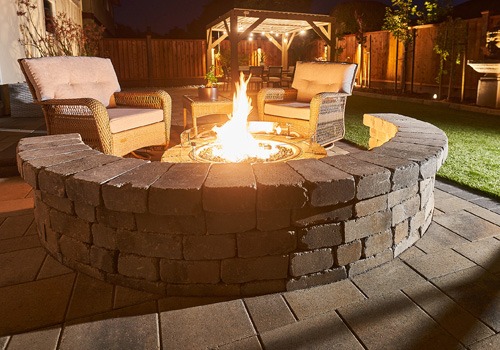 One of our more popular hardscaping options. We build outdoor fireplaces too! Great place to mingle and entertain or just relax.
Please note: Our San Mateo landscape and hardscape services do not include poured concrete or asphalt paving, asphalt or concrete repair, or large retaining walls.
Frequently asked questions about landscaping in San Mateo
Schedule your project and design consultation and get an estimate today.
If you're looking for modern, sensibly designed, and enviable front or backyard outdoor landscaping but are overwhelmed with what you need, what's available, and what will work in your yard, then an Opulands discovery consultation is perfect for you. 
Get your nagging questions answered and a plan forward by requesting a consultation today!  This is how all beautiful yards begin.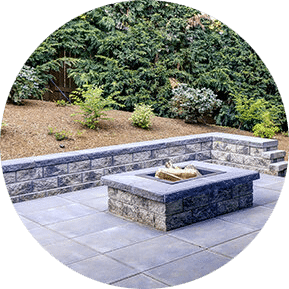 Help us better prepare for your consultation by filling out this brief form: