Bay Area Front Yard Renovation
Opulands provides complete landscaping design & build services for most Bay Area cities including those in and around
and
Licensed & Insured • CA License #1067772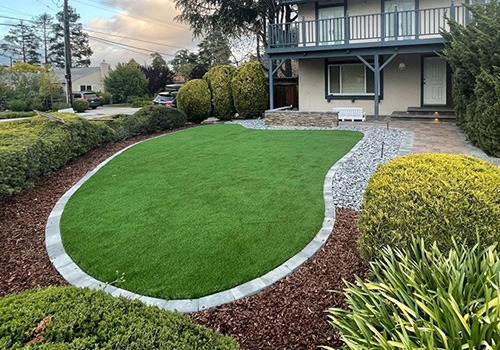 Synthetic or natural sod, whatever you want in a lawn, we can install it for you along with the perimeter hardscaping.
The space in front of your home is all about curb appeal
A front yard landscaping renovation by Opulands will turn heads and increase your property value
Here at Opulands, we have a passion for amazingly designed and incredibly well-built front yards, and for us that means much more than just installing a front lawn trimmed with shrubs and flowers.
Today's front yards in the Bay Area add the contrast of hardscape and beautiful interlocking pavers – whether it be in the form of a paver driveway, walkway or porch – to complete the front yard landscape and create jaw-dropping beauty.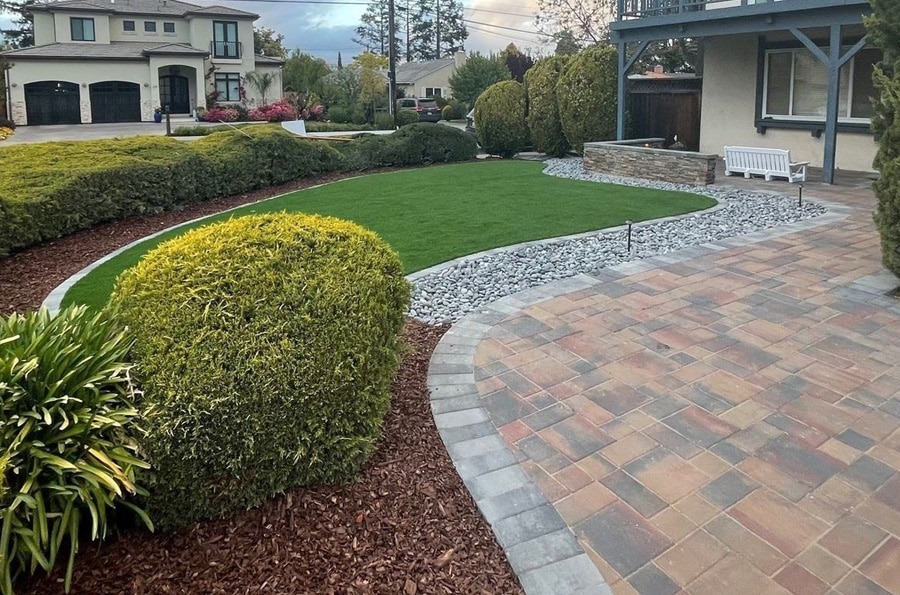 With a wide variety of colors, shapes and textures to choose from, the customization options for your driveway, walkway and porch are virtually limitless. Add to that the decisions that need to be made for your front yard landscaping, it becomes obvious that the overall outcome of your project will to a large degree depend on the expertise that your designer or your contractor brings to the table.
Through careful evaluation and visits to showrooms with our customers, we attempt to make the best match with the home's architecture and its color, as well as the homeowner's preferences and future goals. This is how we design and build front yards that are in alignment with the property and create an authentic, inspiring visual, welcoming the homeowners and their guests.
Opulands did a phenomenal job of designing & installing pavers in our front yard. Highly recommend them to anyone who is looking at landscaping improvements for their home.
The entire experience was great. It was the best value and best engagement I had in this line of business.
Steven is not satisfied unless they achieved the highest quality standards. He will not cut corners to get the project completed. He takes great pride in his work and his crew is simply top notch.
Our most common front yard landscaping and remodel requests
Bay Area home owners love paver driveways
Paver driveways are more durable, more cost-effective, and definitely much more beautiful than asphalt or concrete driveways.
Concrete slabs are prone to cracking and breaking, which then require patching to fix. Although upfront concrete costs may be slightly lower per square foot, the maintenance, time, and energy invested in repairs add up over time, making concrete a less effective choice for your backyard long-term.
On the contrary, pavers are designed to last a lifetime with fewer repairs and a lot less maintenance.
Read more about paver driveways.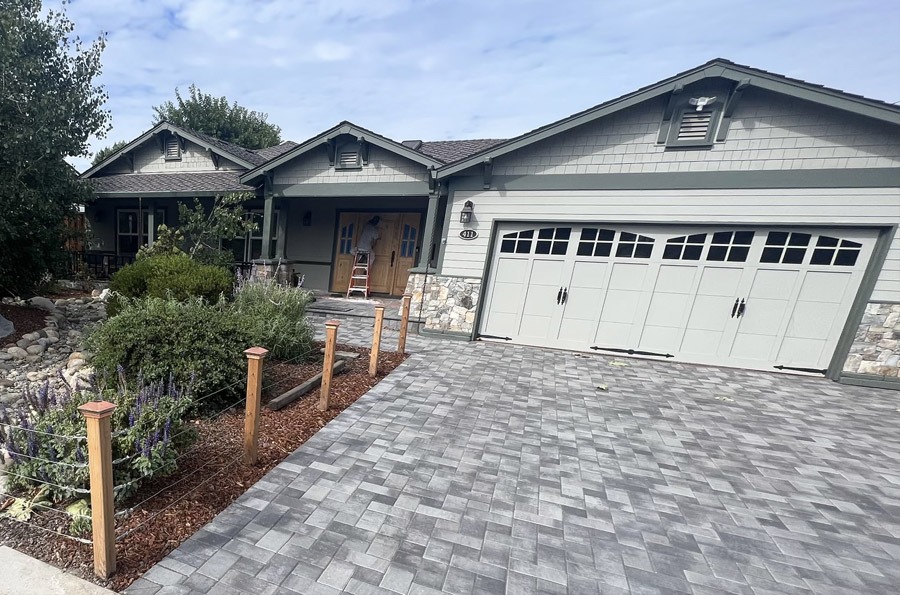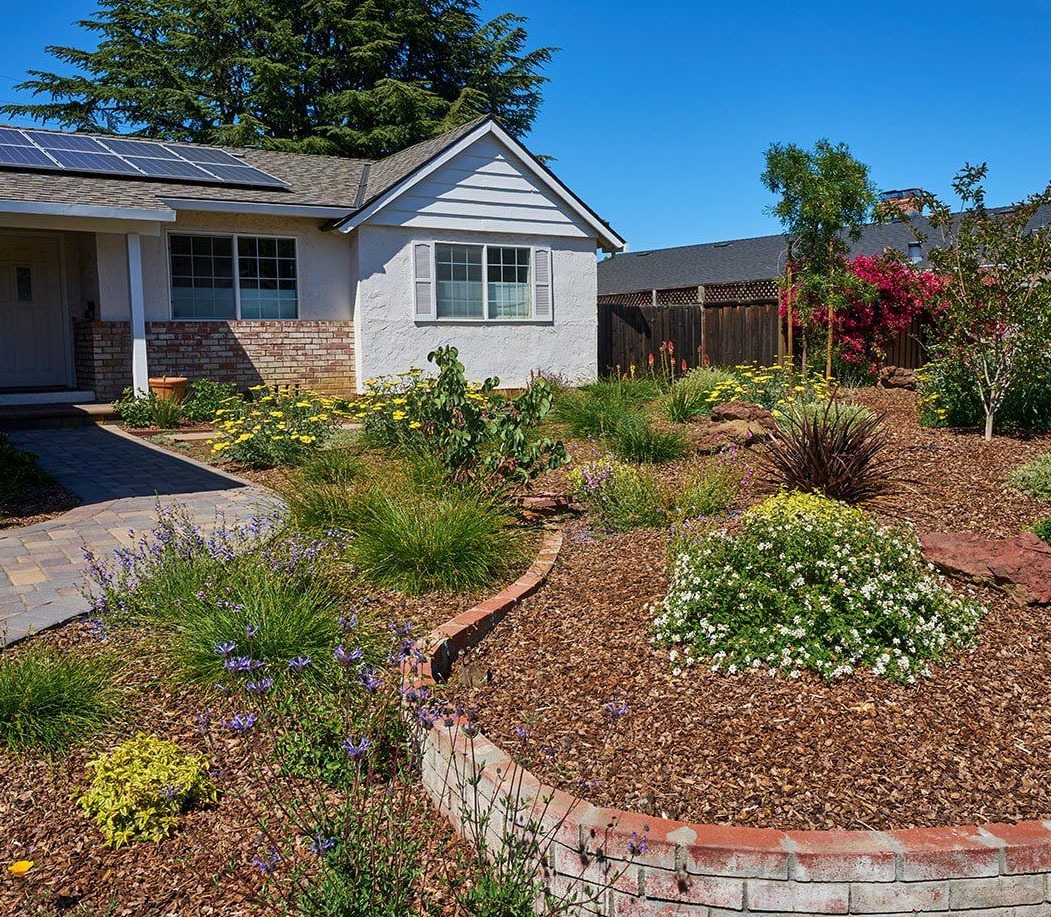 Front yard lawn conversions are happening all over the Bay Area
With the intensifying drought, we are seeing a large rise in front-yard lawn conversions. By converting one's lawn into drought-tolerant landscapes, Bay Area homeowners can significantly cut back on their water use and utility bills. Add with the installation of pollinator and bird-friendly trees and plants, your garden can quickly become a hotspot for birds and butterflies. 
What better time to do this than now. Call us today to improve your curb appeal, cut your utility bill, and conserve water.
Synthetic or natural lawn installation – both are popular
Whether you're looking for a lush low-maintenance lawn or your own personal putting green, synthetic lawn is a versatile choice that is growing in popularity among Bay Area homeowners.
But if you love mowing and the fresh smell of cut grass, we install natural lawns too.
Learn about the benefits of "waterless" synthetic lawns vs sod.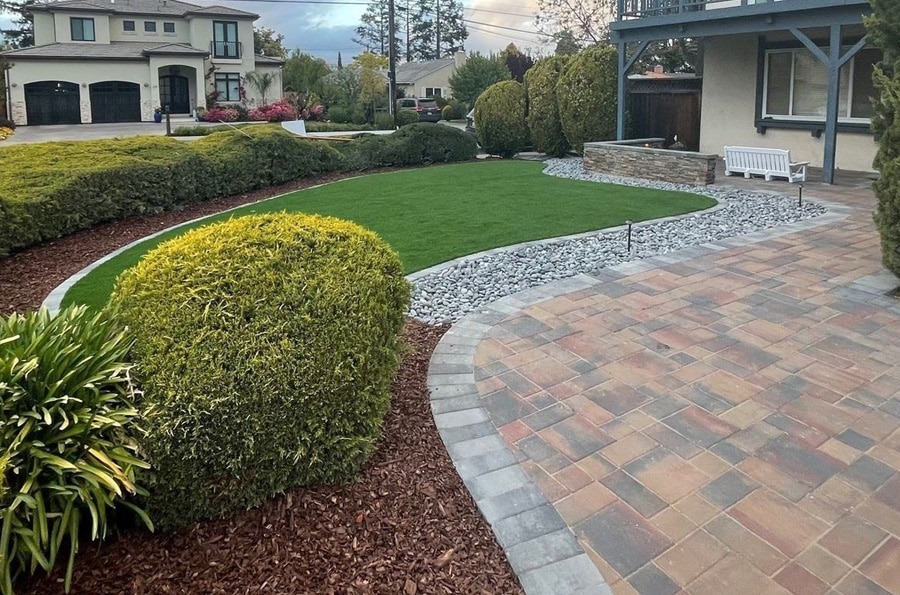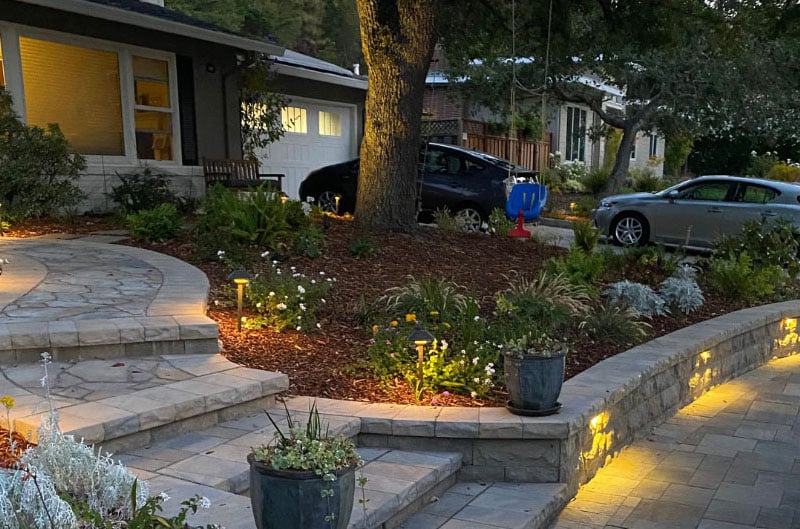 Variety prevails with endless front yard design options
Some like Picasso. Others Monet. Your front yard can be as unique as you and your tastes are.
We can design gardens for a wide range of interests and styles such as low-maintenance gardens, Japanese gardens, Mediterranean gardens, formal gardens, cottage gardens, or modern style. We will help you choose colors that match or contrast one another and complement the hardscape.
Read more about  bee and butterfly-friendly gardening, California native gardening, and flower bulb gardening.
Check out these soft and hardscaping options for your front yard…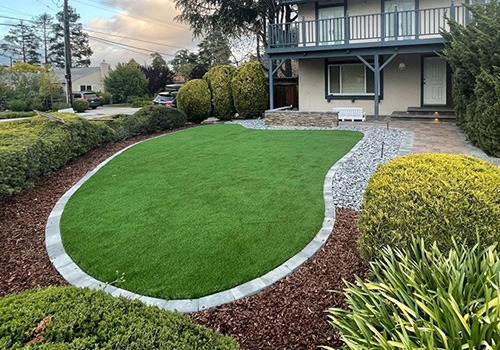 Synthetic or natural sod, whatever you want in a lawn, we can install it for you along with the perimeter hardscaping.
Increase your own Bay Area home's curb appeal with a front-yard landscaping remodel
Make an investment that will ultimately increase your home's value and stand the test of time.​
Choosing the right professional landscape design and installation company in the Bay Area for your front yard landscaping remodel is a critical step to ensuring you will love the end result.
When you work with us on your front or backyard reconstruction, you can expect:
Don't Stop with the Front Yard!
Extend your home and your life to the outdoors with backyard landscaping as well.