Premier Landscape Installation Bay Area
Bay Area
Bay Area
Opulands provides complete landscape design and/or landscape installation services in most Bay Area cities including those in and around San Jose and Palo Alto.
Professional Landscaping Installation by Opulands
Welcome to Opulands, your one-stop destination for all your landscape design and/or landscape installation needs in the Bay Area! From San Jose to Palo Alto and surrounding cities, we offer complete landscape design and installation services to transform your outdoor space into a breathtaking masterpiece.
Whether you have a landscape design in mind, or need our expert team to create one for you, we take pride in installing all the necessary elements that make up the entirety of your stunning new landscape. Say goodbye to dull and uninspiring outdoor spaces and hello to a beautifully designed and expertly crafted landscaping installation by Opulands.
The Importance of Landscape Installation
A well-designed landscape goes beyond aesthetics; it adds value to your property and improves your quality of life. The benefits of landscape installation are numerous. It enhances the curb appeal of your home, creates a welcoming environment, and increases the overall value of your property. Additionally, a thoughtfully designed landscape provides a space for relaxation, entertainment, and recreation. It allows you to connect with nature and escape from the stresses of daily life.
Landscaping Installation Process
Whether you come with your own landscape design, either from an online landscape design service like Yardzen or from a local Bay Area landscape designer, or you want us to design your landscape for you, these are the steps we take next to install the necessary elements that make up the whole of your beautiful new landscape.
Planning Your Landscape
Before diving into the landscape installation process, thorough planning is crucial. This step sets the foundation for a successful project. Start by assessing your outdoor space and considering your goals and preferences. Are you looking for a serene retreat or a vibrant entertainment area? Take into account the existing features, such as trees, slopes, and water sources. Consider the climate and the specific needs of the plants you wish to incorporate. By mapping out your ideas and developing a solid plan, you can ensure a harmonious and functional landscape.
Designing Your Dream Landscape
Designing a landscape that truly reflects your vision requires careful consideration of various elements. Think about the overall style and theme you want to achieve. Do you prefer a formal, structured design or a more relaxed and naturalistic approach? Incorporate elements such as paths, patios, and seating areas to create a cohesive and inviting space. Balance the use of colors, textures, and heights to add visual interest and create focal points. Don't forget to consider the seasonal changes and how your landscape will evolve throughout the year.
Creating Outdoor Living Spaces
Transform your landscape into an extension of your home by creating outdoor living spaces. Design comfortable seating areas where you can relax and entertain guests. Incorporate features like fire pits or outdoor kitchens to extend the usability of your landscape beyond the daylight hours. Integrate privacy screens, trellises, or fences to create intimate and secluded areas. By seamlessly blending indoor and outdoor spaces, you can maximize your enjoyment of the landscape throughout the year.
Demolition and Excavation
Demolition and excavation are crucial first steps in any successful landscaping project. At Opulands, we understand the importance of careful planning and execution when removing an old landscape. Our experienced team assesses your existing landscape and discusses your preferences for the new design, paying close attention to any sentimental areas you'd like to keep.
During demolition, we use specialized equipment and techniques to remove existing structures, hardscaping, and plants while minimizing damage to the surrounding area. Our goal is to create a clean slate for the new design while protecting any existing infrastructure.
Next, we move on to excavation, grading and leveling the ground to prepare for the new landscape. We assess soil conditions, drainage, and natural features like hills and trees to create a cohesive and harmonious design.
At Opulands, we believe that demolition and excavation set the foundation for a successful landscaping installation process. Our precision and attention to detail ensure that the end result is a stunning and functional outdoor space that you can enjoy for years to come.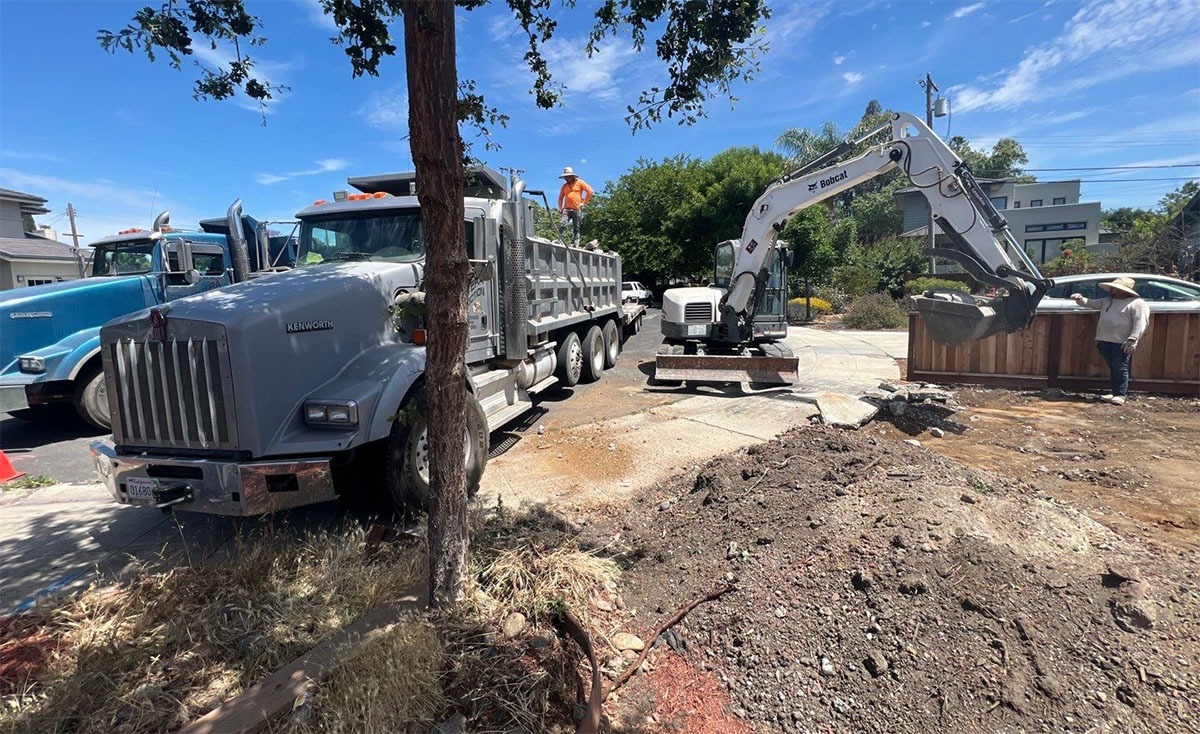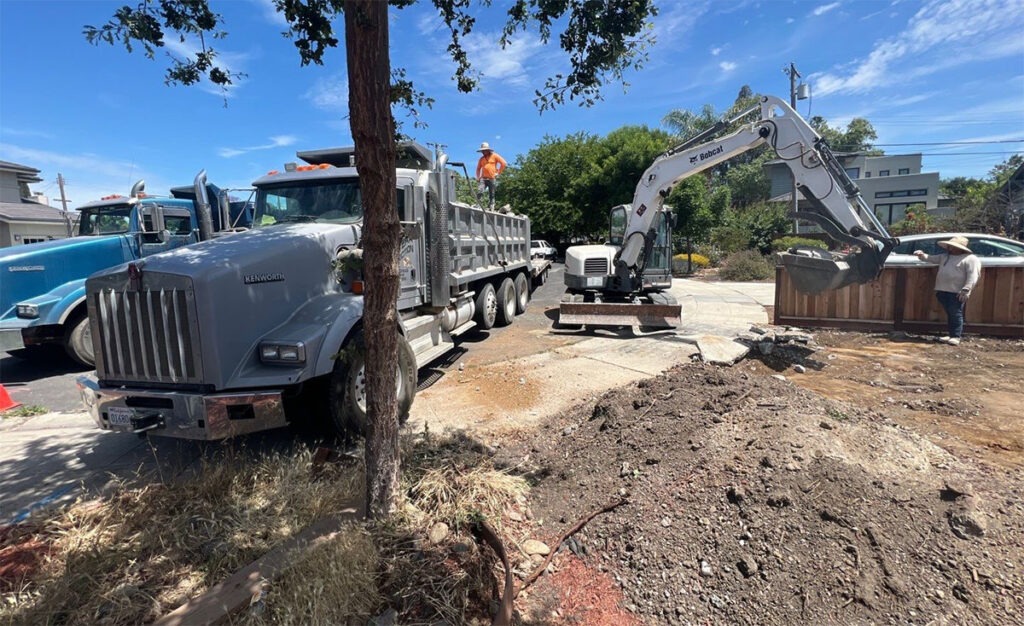 Soil Preparation
To create a healthy and thriving landscape, Opulands enhances the soil structure with organic amendments like compost, raked in carefully for even distribution. We also assess soil type to ensure that it meets the needs of your new plants. Our attention to detail and expertise ensures long-term health and beauty of your landscape.
Irrigation Zone Installation
In order to create the most efficient way of watering the new garden, the planted areas are separated into irrigation zones. Ideally, we separate the zones out by the type of plant or tree in question so that groups of plants and trees with similar water needs will receive the same amount of water, nothing more and nothing less. 
For the control of the irrigation system, we recommend weather-based systems that we can program to take weather patterns and time of year into consideration to determine when and how much plants need watering.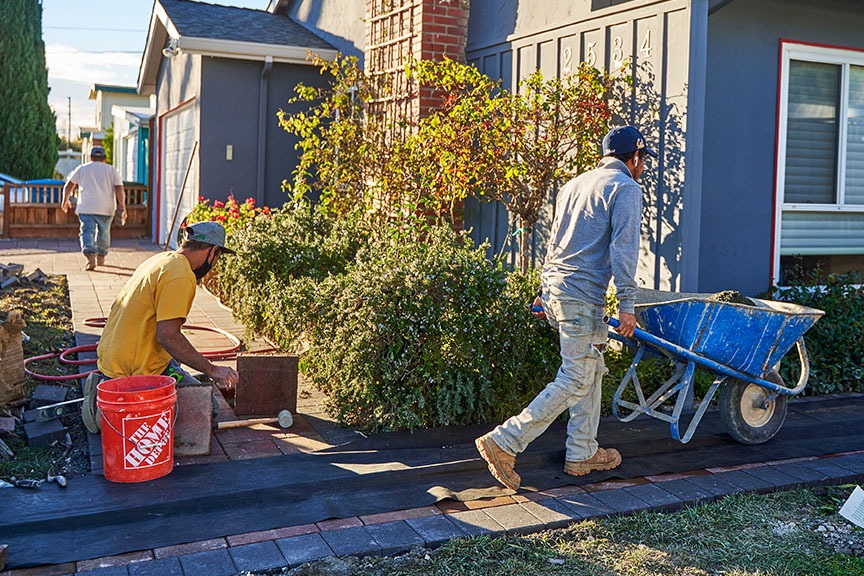 Lawn Installation
Prior to installation and after we have removed the current lawn and groundcover, we add a carefully measured layer of soil to our new lawn areas. This is to make sure the optimal firmness is achieved for the desired use of the lawn areas. 
As members of the California Landscape Contractors Association and certified Rescape technicians, we advocate often for low water using lawn alternatives such as 'no mow lawns', 'California native grass lawns', or the popular kurapia lawn. Check out our lawn installation page for more info!
We have found that it takes initially a bit more involvement from the clients to familiarize themselves with the watering needs of such alternative lawns, but it saves the clients significantly while sparing the California water system. 
Esthetically, alternative lawn products such as kurapia and California native grasses can add beautiful features to a garden in terms of unique colors and authenticity.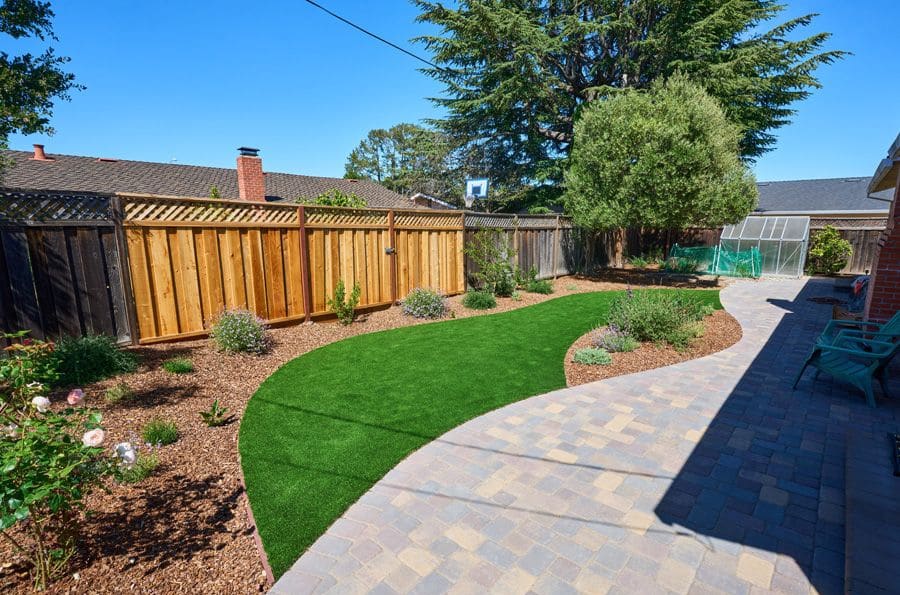 Plant, Shrub and Tree Planting
We install our plants and trees with the right amount of potting soil to give them a healthy start taking into account the desired planting depth.  This will make sure plants are best positioned to thrive in summer and winter conditions.
Mulch Installation
Finally, after lawn and plant installation we cover the newly landscaped soils with a mulch of the customers choosing. This to ensure plants stay moist through the summer and soils are best positioned to retain the winter rains and summer irrigation for as long as possible.
Sustainable Landscaping
Incorporating sustainable practices into your landscape not only benefits the environment but also reduces maintenance costs and conserves resources. Choose native plants that are adapted to the local climate and require minimal water and fertilizer. Implement water-saving irrigation systems and capture rainwater for use in your landscape. Utilize organic mulch to conserve moisture, suppress weeds, and improve soil health. By embracing sustainable landscaping practices, you can create an eco-friendly and resilient outdoor space.
Opulands is your trusted partner for landscape installation of all these beautiful options…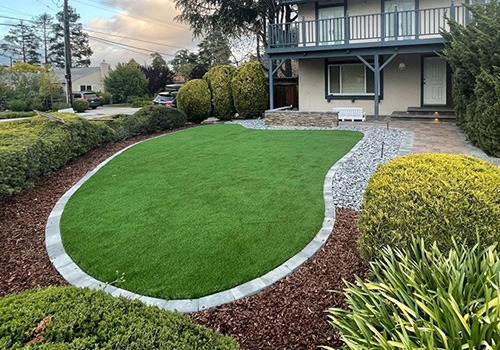 Synthetic or natural sod, whatever you want in a lawn, we can install it for you along with the perimeter hardscaping.
Trust Opulands For Your Landscape Installation Needs
At Opulands, we take pride in our exceptional landscape installation services that bring dreams to life. With our team of skilled professionals and our commitment to delivering excellence, we are your go-to choice for all your landscaping installation needs in the Bay Area. From San Mateo to San Jose, Burlingame to Sunnyvale, Belmont, and beyond, we transform ordinary spaces into breathtaking outdoor sanctuaries. Whether you're envisioning a serene garden retreat or a vibrant entertainment area, our expertise in landscape installation ensures a seamless process from concept to completion. 
Contact us today and let us elevate your outdoor environment with our unmatched dedication and artistry in landscape installation. Experience the Opulands difference and let us create a landscape that exceeds your expectations.