Natural Lawns & Artificial Grass Installation
Opulands provides complete landscaping design & build services for most Bay Area cities including those in and around
and
Licensed & Insured • CA License #1067772
Schedule your project & design consultation today!
An informed lawn choice also considers functionality, practicality, & cost
Back in the day, a traditional grass lawn was the only option for homeowners who wanted to revamp the landscape design of their property. And even when synthetic lawns came on the scene, homeowners still opted for traditional lawns or sod because they had the edge on beauty, and esthetics was key. 
But these days things have changed. Color and texture improvements in artificial grass have provided homeowners with other choices. When installed properly, you may not even notice the difference between a sod and synthetic lawn. 

So which is right for you? Sod or synthetic?
While a natural lawn makes for a lovely treatment, synthetic lawns are growing in popularity among homeowners, particularly in California's Bay area which in recent years has faced extreme drought. Saving water is definitely important, but is that the only benefit? What are the benefits of natural sod that you might be missing out on should you choose to go the synthetic route?
Opulands installs both and gets asked these questions frequently. So we've put this comparison chart together to help you make the decision that is right for you.
The Pluses of a Synthetic Lawn
They're maintenance rree. We really mean it!
These lawns have come a long way from the old Astro Turf. Though they effectively mimic sod, they are literally waterless. There is no need to water, mow, or fertilize them. When a portion of the grass does get worn out, replacing a patch takes only a short day or two before your landscape is fully operational again. That's a time, maintenance, and money savings for years to come. 
Year-round lush appearance
Your synthetic lawn will maintain its beautiful green color 365 days a year. That's a real plus. With a natural lawn, the rainy season means muddy footprints. The dry season brings brown, parched lawns.
Less long-term, lifetime cost
Over the lifetime of the lawn, you will save water, maintenance, fertilizer, and lawn equipment costs, offsetting the typically higher installation cost of a synthetic lawn. In fact, a synthetic lawn literally pays for itself in 3-5 years, and can last up to 25 years versus 10 years for a natural lawn.
Better for you if you're a pet owner
Your dog can play on a nice green lawn without heading inside with mud on their paws. As appealing, pet waste won't damage or stain artificial grass. Plus, its sturdy construction makes it resistant to digging.
Better for your kids
The consistent surface prevents tripping from hidden irregularities such as divots and holes, particularly when your kids are young. No mud gets tracked into the house and there will be no grass stains on your kids' clothes. Artificial grass won't trigger seasonal allergies either.
The Pluses of Sod 
A more traditional choice for homeowners
If you prefer the look and feel of a natural lawn, there's no getting around the fact that you'll likely prefer the real thing. Many prefer the feel of natural sod beneath their feet, and the smell of a freshly mown lawn.
Cooling effect in heat
Natural lawns have a cooling effect in heat and temperatures above 90 degrees. During the hottest months, synthetic lawns can warm up in high temperatures, though they are built to resist burning.
Less up-front cost
New sod lawn installation typically comes with a lower price per square foot when compared with a synthetic lawn installation which requires excavation and base preparations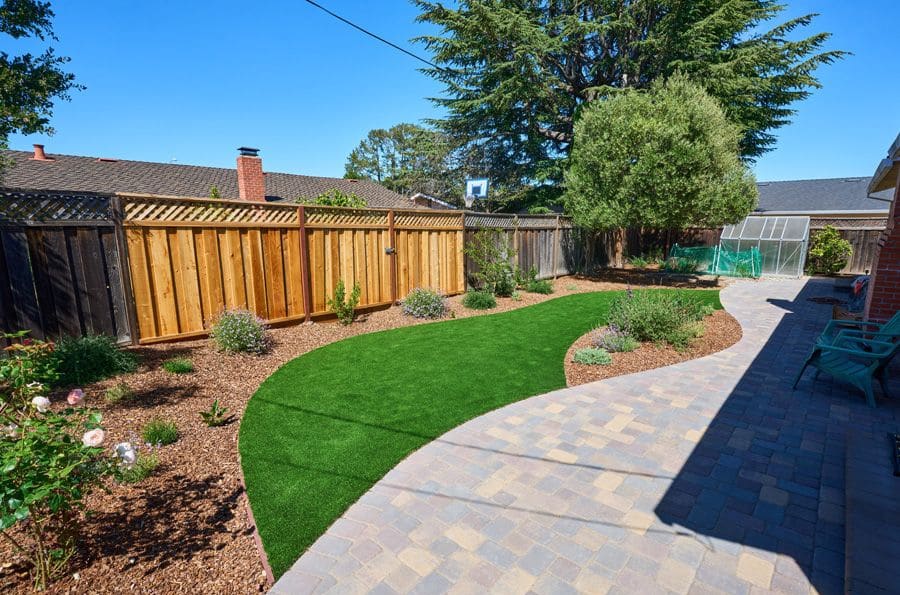 You don't have to stick with just one
There are practical advantages of both natural sod and synthetics, so go ahead. Have both.
This is not an either/or decision you have to make. Keep in mind that you can also combine grass types. For example, you may want to include a putting green in your landscape design or add an activity area where your kids can play sports. Those lend themselves well to synthetic lawns, but natural sod can be used everywhere else.
You can even buy synthetic turf types that match your areas of natural grass. No one may even know.
And what about esthetics? Fake doesn't mean it has to look that way.
You have a lot of options to choose from when it comes to synthetic grasses. Some lean more towards durability for high-use areas, others lean towards beauty. Yes, we said beauty. Artificial grasses these days are not what they used to be. Manufacturers have come a long way in making them look and feel like the real thing.
What makes artificial grass look real?
 YARN
Polyethylene is the most commonly used because of its versatility and balance between durability, aesthetics, and softness. Polypropylene and nylon are more durable and are commonly used in putting greens. They are not as soft which is why they generally aren't chosen for the areas where you want to lounge. All of them come in a variety of colors, thickness and shapes to mimic real grass. 
DENSITY
Think of this like the thread count in sheets. The thicker the density, the more durable and realistic looking. 
PILE HEIGHT
Short pile heights are best for athletic fields and high-traffic areas, while taller grass, between 1 1/4″ and 2 1/2″ is best for life-like front lawns. 
THATCH
Thatch is additional fiber with varying color, weight and texture that mimics the inconsistencies of natural grass.  It even includes brown fibers that replicate the dying underlayer so common in real lawns. Thatch gets your artificial lawn looking very close to the real thing.
Those are the main components of life-like artificial grass. Important too is how it's installed. Drainage, grading, and infill are critically important to keeping your grass looking beautiful and life-like for years to come. 
Who you hire is as important as what you buy
There's a lot to understand when making a choice for your lawn. Knowing the differences that exist between synthetic grass and real sod or how to choose the right artificial grass is just a start in making the right choice.
When you work with Opulands on your front or backyard remodel, we will guide you in making a choice that is best suited to your lifestyle, your property, and your home. We are also experts in lawn installation – synthetic or real. We'll make sure it's done right to give you many years of enjoyment.
As landscape designers, we'll also make sure the size, shape, and placement of your lawn contribute to the overall aesthetics of your back or front yard landscaping.
Contact us now for a complimentary consultation for your front or backyard remodel.
See our other backyard landscaping services