Top-Rated Paver Patio Designs & Installation
Opulands provides complete landscaping design & build services for most Bay Area cities including those in and around
and
Licensed & Insured • CA License #1067772
Top-Rated Paver Patio Design
Extend your Bay Area home & living space to the outdoors with a paver patio​
Just think of spending a magnificent sunny day under blue skies or a star-bright night under the evening sky. Even better. Just think of this enjoyment on your own property, in the comfort of your home.
A paver patio allows you to do just that just beyond the interior comfort of your own home. From barbecuing to relaxing with friends or spending quiet time with your significant other, a paver patio provides beauty and luxury in what we might call an exterior room.
But is it right for you – your lifestyle, your property, and your budget?
Versatile Design Options for Your Paver Patio Designs
When it comes to patio design, pavers offer homeowners a variety of options. Pavers come in a range of shapes, sizes, materials, and colors. This makes them perfect for creating a unique paver patio design that perfectly fits the space and aesthetic of your home.
Here in the Bay Area most paver outlets and contractors offer a choice between three brands Belgard, Calstone and Basalite. Although all three offer fantastic options, here at Opulands we also install pavers from less well known sources such as
Pacific Interlock Paver, Inc.

Techo Bloc

Stepstone Pavers
Pacific Interlock Pavers out of Hollister, CA, prides itself in being the oldest paving stone manufacturer in California. They are well known for the large range of colors that they provide as well as their focus on environmentally friendly permeable pavers. Techo-Bloc is a relative newcomer in the Bay Area that produces pavers that are trendy and often very contemporary. Stepstone Inc. out of Gardena, in Southern California is known for the largest pavers in the industry with very sleek options for pool decks and pool coping. Step stone is a common pick for contemporary architects and featured in many Bay Area tech campuses and high end shopping centers. Linearity is the company's mantra giving way to modern looking paved spaces.
A popular choice is to use large rectangular pavers for the main area and smaller square pavers for accents or borders. This type of design is versatile and can be used to create a variety of interesting patterns like herringbone, basket weave, and running bond. It also allows you to mix different paver colors and textures for a more unique look.
Another option is to combine pavers with other materials such as natural stone, brick, or concrete for a truly custom look. You can also use pavers to create outdoor features such as a pergola, fireplace, or water feature.
Our team will work closely with you to ensure that the finished product meets all of your aesthetic and functional needs. If we don't answer those questions here, be sure to request a free consultation and we're happy to answer any questions you have. Get in touch today.
I didn't realize that the sprinklers that they put in were set too high. So I called Opulands a week after the patio was done to tell them the problem and they were so nice about it. The crew showed up two days later and stayed on it till completely taken care of!
Opulands did an outstanding job with landscaping our backyard. They presented a good set of design options, waited for our feedback, executed the job very professionally.
Opulands worked with us to ensure all our needs were met. A wonderful experience working with them. We love our backyard!
Opulands did a phenomenal job of designing & installing pavers in our front yard. Highly recommend them to anyone who is looking at landscaping improvements for their home.
Backyard paver patio designs perfect for Bay Area homes
Here in the Bay Area, we tend to live in homes that are lovely, but often small. That limit on square footage can put a crimp in your entertainment style—and also the luxury of finding some space for quiet time either alone or with your loved ones. 
Our outdoor paver patio designs provide a solution. In the Bay Area where we're blessed with warm weather much of the year, whether your home is large or small, a paver patio essentially gives you an outdoor room that extends your space and adds functional purpose and value to your home.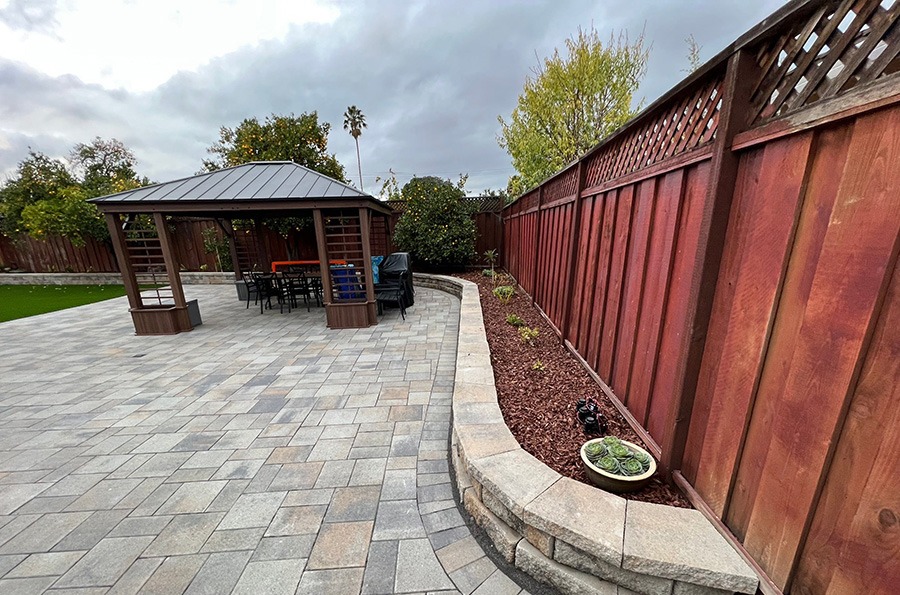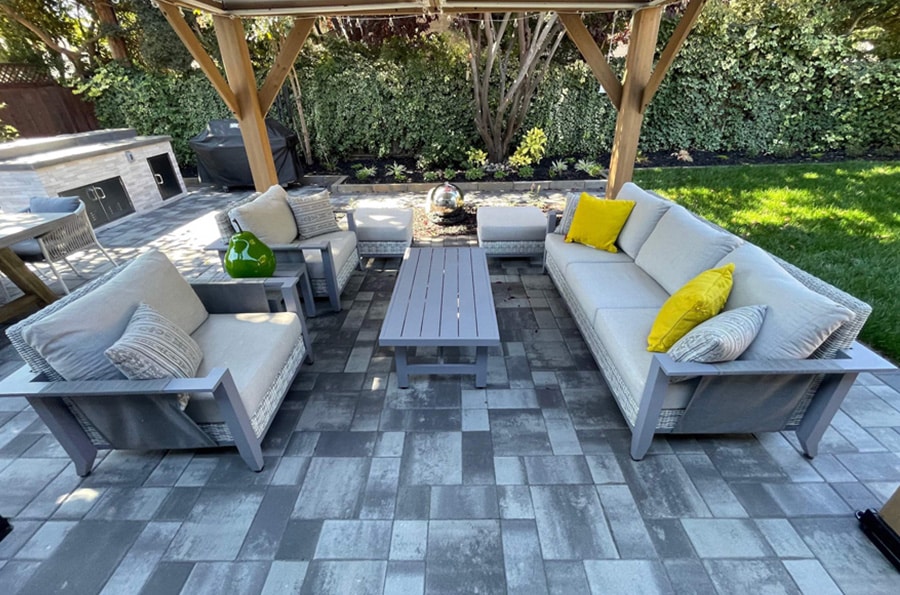 Paver patios are stunning and require less upkeep
These days homeowners in the Bay Area want something different than the lawns and wooden decks that are so common with the older homes here. 
They want a backyard that requires less upkeep, cost, and water to maintain. They also want their environment to be beautiful and contemporary. Backyard pavers fit the bill. The variety of colors, shapes, textures, and patterns in pavers present sky's-the-limit possibilities, as well as a sense of modernity and elegance to Silicon Valley's older homes.
Paver patios are more durable and more cost-effective than concrete slab patios
Because pavers are so durable, many consider them a better choice than a poured concrete patio. 
Concrete slabs are prone to cracking and breaking, which then require patching to fix. This sort of repair work can create an eyesore to your overall landscaping appearance, not to mention cost you money in repairs. 
Although upfront concrete costs may be slightly lower per square foot, the maintenance, time, and energy invested in repairs add up over time, making concrete a less effective choice for your backyard long-term.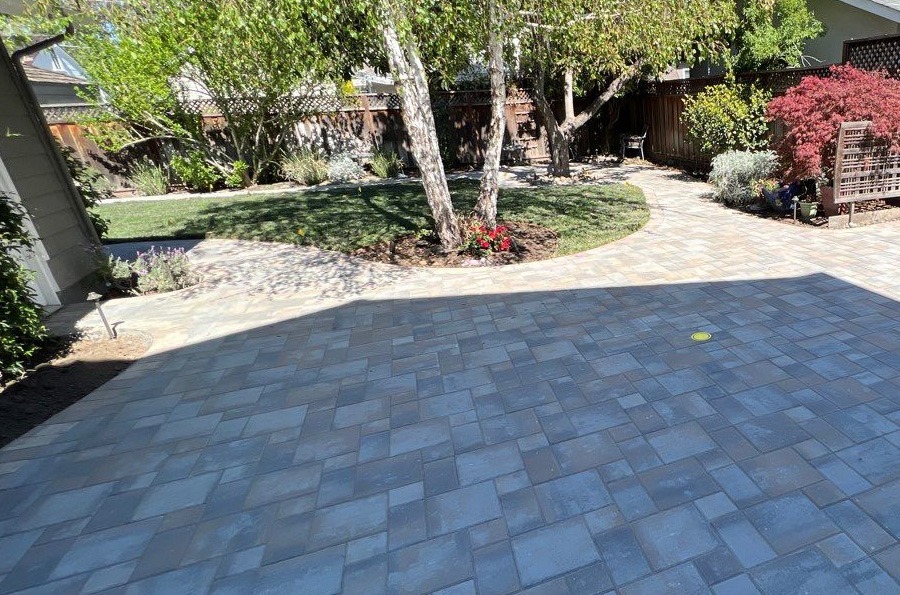 There's no denying it. Our Bay Area weather and outdoor lifestyle is perfect for this…
Factors to Consider Before Designing a Paver Patio
Before diving into the exciting world of paver patio designs, it's essential to consider a few factors that will influence your design decisions. By taking these factors into account, you can ensure your paver patio meets your needs and enhances the overall functionality of your outdoor space. Let's explore these key considerations:
Patio Size
The size of your patio will dictate the available design options. A larger patio allows for more creative layouts and the inclusion of additional features such as outdoor kitchens or fire pits. On the other hand, smaller spaces require efficient use of available area and clever space-saving solutions.
Budget
Determining your budget early on is crucial in guiding your design choices. Paver materials vary in cost, and additional features such as lighting or water elements can add to the overall expenses. Knowing your budget will help you prioritize and make informed decisions during the design process.
Maintenance
Consider the level of maintenance you're willing to commit to for your paver patio. Some materials require more upkeep than others. For instance, natural stone may require periodic sealing, while concrete pavers are generally low-maintenance. Understanding the maintenance requirements will help you choose materials that align with your lifestyle and preferences.
Popular Paver Materials for Patio Designs
The choice of paver materials greatly influences the overall aesthetic and durability of your patio. Let's explore some popular options:
Brick Pavers
Brick pavers bring a classic and timeless charm to any patio design. They are available in various colors and sizes, allowing for creative patterns and layouts. Brick pavers are durable, slip-resistant, and offer a warm and inviting ambiance.
Concrete Pavers
Concrete pavers are versatile and offer a wide range of design options. They come in different shapes, textures, and colors, allowing you to customize your patio to suit your style. Concrete pavers are durable, low-maintenance, and can mimic the look of natural stone or brick.
Natural Stone
Natural stone pavers, such as flagstone or slate, create a stunning and organic look. They offer unique textures, colors, and irregular shapes, adding natural beauty to your patio design. Natural stone pavers are durable and can withstand various weather conditions.
By selecting the right paver material for your patio, you can set the foundation for a beautiful and long-lasting outdoor space.
Extend the beauty of your home to the outdoors with a paver patio
Make an investment that will ultimately increase your home's value and stand the test of time.
When you work with us on your front or backyard reconstruction, you can expect:
Ready to Install a Custom Paver Patio Design in Your Yard?
Experience the ultimate outdoor living space with Opulands' expertly crafted paver patio designs. Our team of skilled professionals is dedicated to transforming your Bay Area home, extending its beauty beyond its interior walls. Whether you're looking to create a cozy retreat for relaxation or an inviting space for entertaining guests, our versatile paver patio designs offer endless possibilities. With a focus on quality, durability, and aesthetic appeal, we ensure that your paver patio perfectly complements your lifestyle, property, and budget. 
Take the first step towards enhancing your outdoor oasis by contacting us at Opulands today. Let our expertise in paver patio design bring your vision to life.