Choose From Travertine, Bluestone, or Porcelain
Interlocking Paver Patios & Driveways
Opulands designs and builds landscapes and hardscapes from Los Gatos and Saratoga in the south up to San Jose, Sunnyvale, Palo Alto, Menlo Park, as far north as Belmont, and all Bay Area cities in between.*
Licensed & Insured • CA License #1067772
Schedule your FREE project consultation, design & estimate today!
Schedule your FREE project & design consultation today and get an estimate!
Choosing the right hardscape for your home will set the foundation for your new outdoor space.
With a variety of colors, shapes and textures to choose from – the customization options are virtually limitless. Not only will this upgrade your home's aesthetic, an outdoor renovation will also increase your home's value!
Opulands designs & installs a wide range of hardscape products – from durable porcelain or concrete paver stones, to natural stone such as travertine or bluestone. Every home is different, and your home's exterior should be a reflection of your unique style.
Did you know paver stones are stronger than poured concrete? See our "Benefits of Pavers" section below the image gallery to learn more!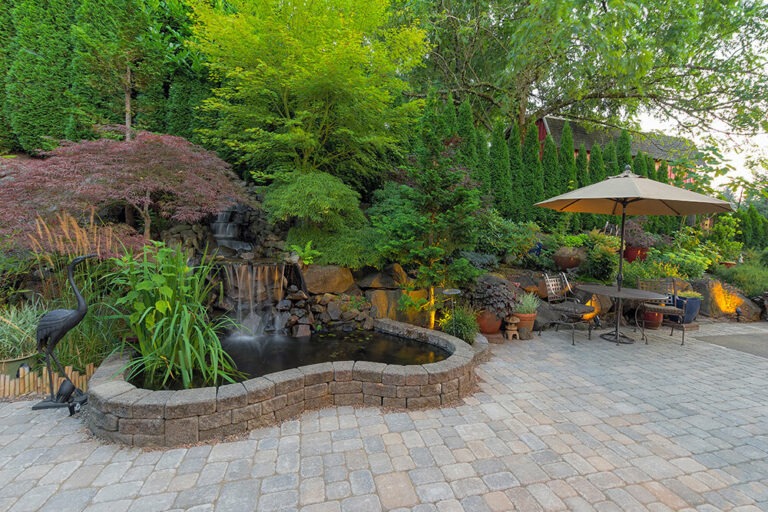 Some of the ways you can use pavers!
Why Use Pavers and Not Concrete or Asphalt for Your Walkways or Driveway?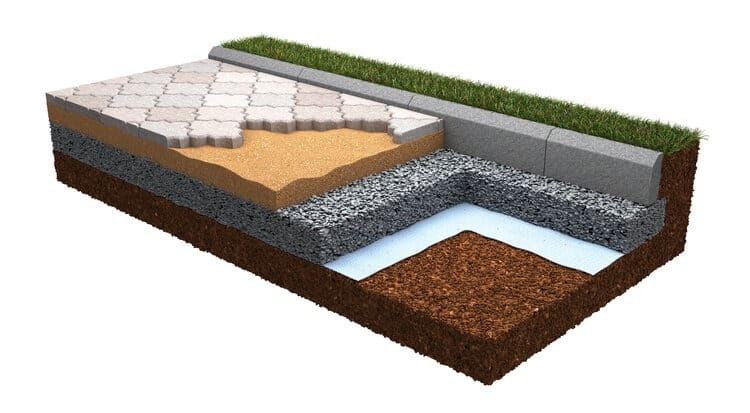 Pavers Are More Durable than Concrete
Never replace ugly, cracked concrete again!
Paver stones can withstand 8,000 PSI, compared to concrete at around 4,000 PSI.
This means your investment is protected from cracking or breaking, even under heavy RVs and trucks – making pavers an ideal solution for both patios and driveways.
As members of the Interlocking Concrete Paving Institute (ICPI), we are strong supporters of interlocking pavers and either meet or exceed ICPI's recommendations.
Pavers Withstand Buckling & Shifting
What makes pavers so strong and durable? Below the surface, a geotextile fabric is placed to assist with soil stability and drainage. Next, a layer of baserock is installed & compacted to ICPI's recommended specifications. Above that, a layer of bedding sand is placed to help avoid buckling & shifting. Once the pavers are individually laid, a joint sand is swept into the gaps to help them "interlock" into their final resting place.
Pavers Are Low Maintenance
Instead of pouring a single surface of concrete, each paver is placed individually. Need access to a utility line, or cut a tree root that's grown underneath your pavers? Simply remove the paving stones and replace once complete – no unsightly patches or expensive repairs needed!
Especially in California, paver stones are an "earthquake proof" solution for your home. Unlike concrete or asphalt, pavers are designed to last a lifetime.
The Importance of Drainage & Why Opulands Takes It So Seriously
One of the most critical aspects of installing a new hardscape is proper grading and drainage. Without a professional approach to either, the rainy season can soon become a nightmare of puddles (or worse, water sloping towards your home and causing long term inevitable damage to your property).
Choosing a contractor well versed in surface drainage is a crucial component to ensure you don't face these problems.
Planning proper drainage is our expertise!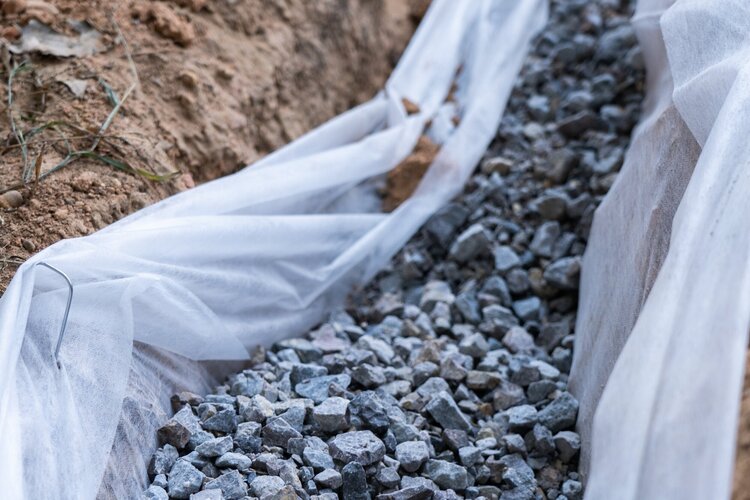 Image above: Installation of a French Drain
Whether you're looking for durable interlocking pavers or elegant natural stone such as travertine or bluestone – Opulands will leave no stone unturned until we find the right fit to meet your needs and match your home's unique style.
Choose the Right Paver Installation Contractor
Installing a paver driveway or patio is where the expertise and managerial skills of your installation partner will be put to the test to the fullest. There are commonly a wide range of experts involved in the installation of paver solutions: arborists (for tree removal or tree protection), plumbers, electricians, landscape contractors, engineers, designers,  pergola contractors, and more. It's important to select an installation partner who can take the lead on all that's needed and offer a large array of the necessary services in-house or through affiliated partners.
Opulands Is Your Trusted Partner in Paver Installation & Design
Afraid it will cost too much?
Discouraged by the high cost of your friend's paving project?
We're different. Unlike other large corporations, we follow a lean business model to keep our overhead and marketing budgets low. We then pass the savings onto our clients.
Our projects come in mostly through referrals, so we can typically offer more high quality components and make your home improvement dollars stretch further.
Schedule your FREE project & design consultation & get an estimate today!
Opulence…uh…Opulands awaits!
Whether your project is large or small, we are uniquely positioned to provide you an outdoor design solution to fit your lifestyle and the needs of your home.
Atherton
Belmont
Burlingame
Campbell
Cupertino
Emerald Hills
Hillsborough
Los Altos
Los Altos Hills
Los Gatos
Millbrae
Menlo Park
Mountain View
Palo Alto
Redwood City
San Carlos
San Jose
San Mateo
Santa Clara
Saratoga
Scotts Valley
Stanford
Sunnyvale
Woodside
There are other ways to create the outdoor living space of your dreams
Opulands is a landscaper and hardscaper. We do it all!