Bay Area Hardscaping Contractor
Paver Patios, Walkways & Walls
We're in San Jose, but design and build landscapes and hardscapes from Los Gatos and Saratoga in the south to Santa Clara, Los Altos Hills, Palo Alto, Redwood City and all Bay Area cities in between.*
Licensed & Insured • CA License #1067772
Schedule your FREE project consultation, design & estimate today!
Choosing the right hardscape for your home will set the foundation for your new outdoor space.
With a variety of colors, shapes and textures to choose from – the customization options are virtually limitless. Not only will this upgrade your home's aesthetic, an outdoor renovation will also increase your home's value!
Opulands designs & installs a wide range of hardscape products – from durable porcelain or concrete paver stones, to natural stone such as travertine or bluestone. Every home is different, and your home's exterior should be a reflection of your unique style.
Did you know paver stones are stronger than poured concrete? See our "Benefits of Pavers" section below the image gallery to learn more!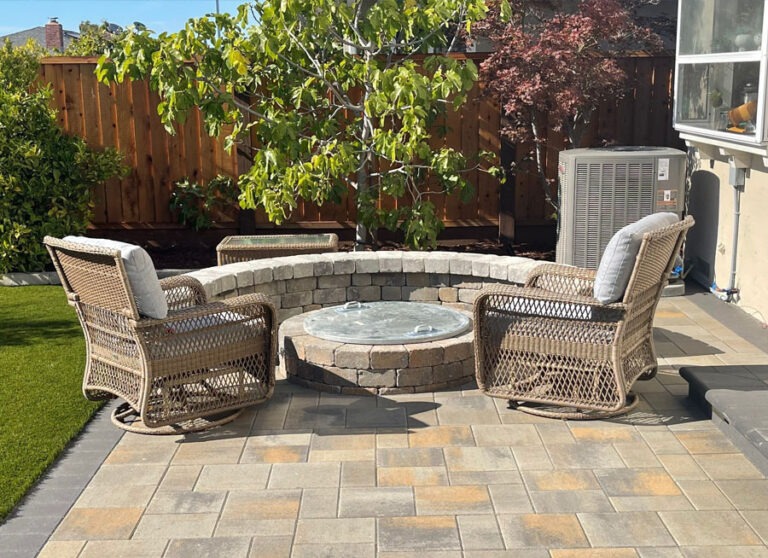 Here's what one of our Sunnyvale customers had to say about working with Opulands.
Some of the many ways you can use pavers
Whether you're looking for durable interlocking pavers or elegant natural stone such as travertine or bluestone – Opulands will leave no stone unturned until we find the right fit to meet your needs and match your home's unique style.
Choose the Right Paver Installation Contractor
Installing a paver driveway or patio is where the expertise and managerial skills of your installation partner will be put to the test to the fullest. There are commonly a wide range of experts involved in the installation of paver solutions: arborists (for tree removal or tree protection), plumbers, electricians, landscape contractors, engineers, designers,  pergola contractors, and more. It's important to select an installation partner who can take the lead on all that's needed and offer a large array of the necessary services in-house or through affiliated partners.
Opulands Is Your Trusted Partner in Paver Installation & Design