They knew what they wanted but didn't know how to achieve it
When Harshawardhan and his wife, Brajakta, moved into their Silicon Valley property, they spent two years working on the demolition and reconstruction of their 70-year-old property. Once done, and with the interior of their house finally feeling like home, they realized to fully complete the picture, they needed to turn their attention to the outdoor space surrounding their home. 
The front yard had an unfinished look and a concrete driveway which was both an eyesore and not roomy enough to park the couple's two cars. The backyard was not at all functional. In fact, the couple had barely set foot outside their back door in the two years they'd lived in their home. 
The back property lacked flow from their newly renovated home. It had no thematic form or aesthetics, nor sustainability and alignment of growing things with the soil. The mature fruit trees that were there dropped leaves constantly and left a terrible mess. The yard also lacked privacy which was a really sore point as the neighbors were undertaking a long-term construction project on their property. 
Harshawardhan and Brajakta knew what they wanted to achieve but didn't know how to achieve it. They had no real vision for the outcome nor what plantings would best suit the soil or fulfill their lifestyle needs. 
It became clear they needed professional help.
Brajakta asked coworkers for recommendations for landscape designers and the couple contacted a few. Though all were highly rated, their service offering was not the comprehensive work they were looking for. The couple would be left to figure out how to integrate all elements, and then they still would have to turn to another firm to complete construction and installation. 
Harshawardhan and Brajakta wanted and needed someone who would be more hands-on and invested in the project – a landscape design and construction firm that would design and deliver from design and guidance through installation and construction. 
That's when someone recommended Steven van Dongen, founder and CEO of Opulands Landscape Design and Construction.
Hooked by the incredible knowledge and expertise of the Opulands team
Steven Von Dongen of Opulands had received good Yelp reviews and was highly regarded by their coworkers, so Harshawardhan and Brajakta arranged a consultation.
Landscape designer Dawn Angel, a landscaper designer with whom Steven partners on many projects, accompanied Steven to the consultation, and together they assessed the property, made recommendations, created a design, and then worked up a project plan to execute on construction.
Harshawardhan and Brajakta were hooked.  Steven and Dawn showed incredible knowledge and expertise and knew not only what would look good to make the outdoor space more inviting, but also identified the right tree choices for the weather and the soil.
The initial meeting was in March and what followed was about a month and one-half of design creation and client review.
"Steven's proposal was excellent, and his fee more than reasonable for the extensive scope of work he was suggesting," said Harshawardhan.
The delivery time was also more than satisfactory. For the amount of work that was going to be done, the project would be completed in two to three weeks.
Our backyard renovations:
Opulands saved some of the property's mature trees which the clients liked – the orange, lemon, and plum – trimmed the trees and saved them from root rot.  
They eliminated two extremely messy privet trees which were crowding out the native fruit trees reducing biodiversity in the backyard and running counter to Harshawardhan and Brajakta's green goals for their property.
To create privacy in the backyard, Opulands planted a huge row of hedges which will flourish into a full, huge privacy hedge over the next few years.
They planted five dozen trees, provided irrigation with drip sprinklers, and installed landscape lighting.
They corrected the paver work which was left unleveled by a previous contractor.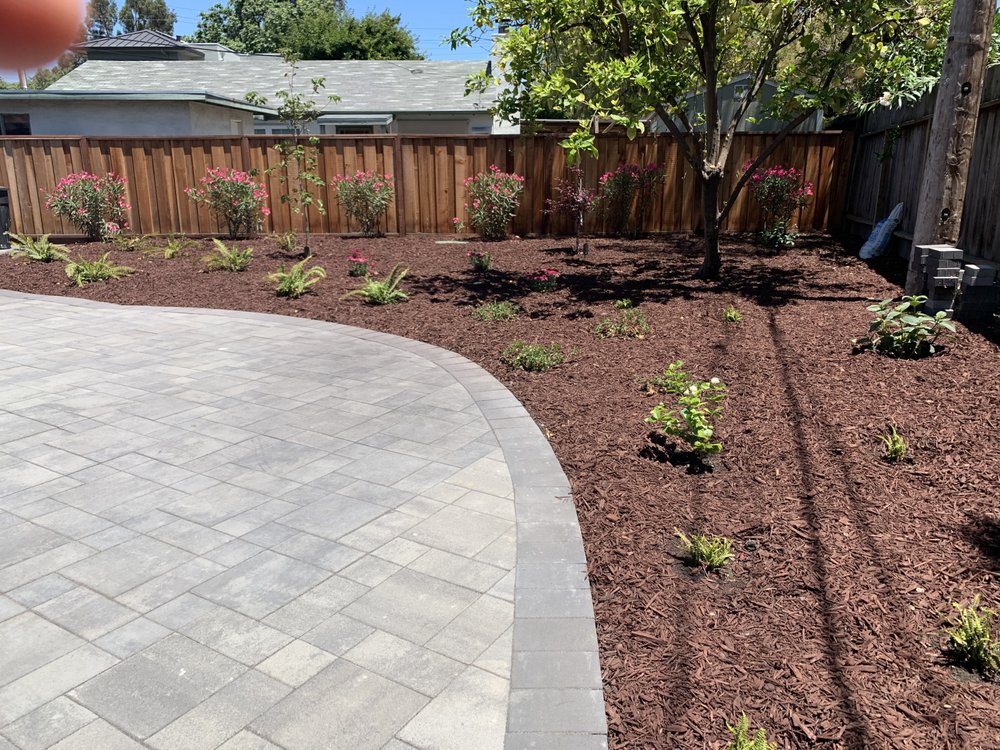 The front yard renovations:
Opulands replaced the concrete driveway with a paver driveway, expanding the area to accommodate two cars.
Opulands planted a number of yew trees and prettier shrubs, creating visual appeal and a welcoming look for the front yard.
The finished project resulted in both enhanced aesthetics and functionality. 
What was and what resulted following the Opulands design and renovation was like "night and day," Harshawardhan said. 
"Its beautiful, welcoming, and Steven and his team did the work fantastically with love and care." 
Harshawardhan had strong words of praise for both the crew and Steven. 
"The crew was professional, respectful, and accommodating. Steven was on site every day to oversee the work, answer questions, and provide status. He exemplified the important communications skills that build the client relationships so necessary for a project of this magnitude. The Opulands team was neat throughout the duration of the project. And despite the specifics of the design plan, Steven and his crew made final, minor tweaks at no additional charge when they saw in real time that something additional would be needed or tweaked to achieve the desired outcome."

"I've heard horror stories from friends who have worked with other contractors and experienced delays, a lack of professionalism, and poor work. Our experience with Steven was just the opposite. He and his Opulands' crew were a delight to work with!"
It's your turn. Come home to your own outdoor oasis.
Opulands is dedicated to having you too experience the bounty of nature, the joy of family and friends, and the sumptuous aesthetic of the outdoor space right outside your front and back doors. Request a consultation and let's get started on your own front or backyard transformation. 
Our Backyard Remodeling Services